Hattori and Kenichi seek revenge when Kagechiyo is caught spying on them.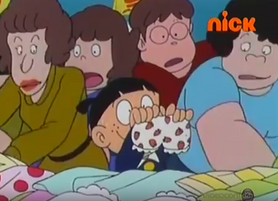 In the woods near the Shinto temple, Kenichi, Shinzo and Shishimaru all work together to bury Kenichi's exam papers, unaware that Kagechiyo the cat is spying on them. Later on, Kemumaki turns up at Kenichi's and shows Mrs Mitsuba the papers. Mrs Mitsuba thanks Kemumaki and drags Kenichi off. That night, Kenichi tells Hattori about what Kemumaki did to him. Hattori tells Kenichi that his actions were wrong but also believes that Kemumaki was also not right to spy on him. Back at the flat, Kemumaki and Kagechiyo laugh at getting Kenichi into trouble and resolve to make his life a further misery.  
The next morning, Hattori tells the gang that they will work together to give Kagechiyo his comeuppance. A little while later, Kenichi goes around shouting that Yumeko is in trouble and needs help. However, Hattori tells him not to blurt it out too loudly because Kagechiyo might overhear - which he is meant to be doing. They search high and low to find a place to discuss the matter in private, from Kenichi's room to a rowing boat in a pond, and eventually find the isolated school playground. Undeterred, Kagechiyo uses his Koga-ninja lip-sync machine to find out what Kenichi is saying - according to Kenichi, Yumeko's strawberry-print knickers have blown away in a heavy wind. Kagechiyo goes to the flat to find Kemumaki and tell him what he heard.  
Having heard the news, Kemumaki goes with his faithful feline in search of the knickers. They get scared off by a dog who rips off the bottom of Kemumaki's trousers, get into trouble with someone for trying to steal her lingerie, and arrive at a busy bargain sale in a shopping centre. As Kagechiyo waits outside the building, his master sneaks into the crowd of shopaholic ladies and nicks the knickers, and is humiliated after he shouts out his victory.   
Not long afterwards they arrive at Yumeko's house and give her the lingerie. Assuming that it's a handkerchief, Yumeko unfolds it - but is mortified to see that it's actually a pair of knickers! Furious, she slaps Kemumaki across the face before disappearing. As Kemumaki has a go at Kagechiyo for telling him these lies, Kanzo and the gang celebrate their victory.  
Characters
Edit
Bargain sale customers
Neighbourhood resident
Dog
Ad blocker interference detected!
Wikia is a free-to-use site that makes money from advertising. We have a modified experience for viewers using ad blockers

Wikia is not accessible if you've made further modifications. Remove the custom ad blocker rule(s) and the page will load as expected.