Hattori takes a break from Ninja Techniques on Shinzo's orders.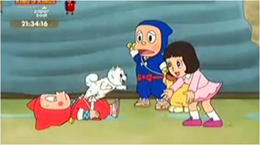 Synopsis
Edit
During training, Hattori uses Ninja Techniques to retrieve a girl's balloon and a boy's ball. He then roof-surfs home and hides behind a sheet to scare Shinzo and Shishimaru. Annoyed, Shinzo reads a scroll that he found and tells his brother to take a break from Ninja Techniques while they can use them instead.
Kenichi comes back home and asks Hattori to fetch one of his forgotten books from school. As Hattori is about to jump off, Shinzo stops him and goes to find it instead. Shinzo comes back after doing the needful, Mrs Mitsuba asks Hattori to sweep the scattered leaves in the garden, but he is apprehended. Shishimaru cleans the leaves up instead. As Mrs Mitsuba goes to the supermarket to buy ingredients for dinner, Kemumaki and Kagechiyo arrive for a duel. Due to Shinzo preventing Hattori from using his techniques, the trio are defeated. Depressed, Hattori goes out for a walk to clear his mind.
As he walks, he bumps into Yumeko, who is searching for her West Highland White Terrier Toko. She tells him that he ran into a construction site after she accidentally let go of his leash. Hattori prepares to use his techniques - when Shinzo and Shishimaru appear out of the blue and offer to take over. As they search, Shinzo finds Toko in an abandoned building, but a sharp gust of wind slams the door shut. As Shinzo opens the window, which is barred, some disused planks catch fire due to the sunlight seeping in, and Shinzo is alerted by Toko's barks. Noticing the burning building, Hattori blows the roof off, bursts a water-filled pipe and frees Shinzo and Toko. Shinzo thanks Hattori, but as he realises the truth, he bans Hattori from using his techniques for the next two days, exasperating him.
Characters
Edit