Kenichi has insomnia and can't sleep, so he asks Hattori for help.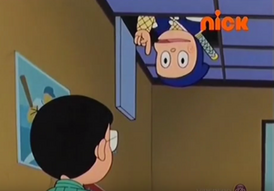 Synopsis
Edit
At twenty-five past one in the morning, Kenichi is still tossing and turning in his bed. Just then, Shinzo and Shishimaru sleepwalk into Kenichi's room, wanting to go to the bathroom. Kenichi ushers them out before any trouble is caused. Incensed that he can't sleep, Kenichi asks Hattori to help him. Hattori starts to sing a lullaby, but Kenichi says it sounds nothing like one, so Hattori suggests he count sheep, but while demonstrating the technique to him, he falls asleep while hanging off the trapdoor hinges. Kenichi wakes him up. Kenichi starts counting, but he can't count imaginary sheep, so Hattori offers to turn Shishimaru into a sheep. 
Later on, Hattori brings Shishimaru upstairs and turns him into a bighorn sheep. He walks across the corridor, and when he reaches the other side, Hattori throws him back. He keeps doing this until he reaches eight hundred and seventeen sheep. Just as Hattori is about to follow the procedure one last time, he falters, Shishimaru falls down the stairs, and the whole family is woken up, thinking that an earthquake has hit. Mr and Mrs Mitsuba find a dazed Shishimaru at the foot of the stairs, and Kenichi has a go at Hattori, saying that he was woken because he messed up. Oblivious, Hattori keeps on counting sheep, now very sleepy himself. 
Characters
Edit
At the beginning of the episode, the time on Kenichi's alarm clock reads 1:25, but just a minute later, it reads 1:50.
When Kenichi and Hattori count sheep, the word "sheeps" is used instead of "sheep".
When Kenichi counts sheep, he misses numbers, on one instance saying fifty-nine immediately after fifty-six.