Kenichi struggles to hide his poor exam marks from Mrs Mitsuba.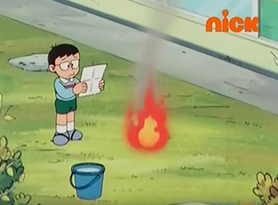 At the end of a paper discussion at school, Kenichi meets a rather down-in-the-dumps Yumeko, who laments that she only got sixty marks for the exam. Kenichi feels embarrassed, as he got only twenty for the exam, meaning that he's in hot water with his mum. At home, Kenichi lights a bonfire to set fire to his answer sheet - but just then, the wind blows the paper away! Kenichi gives chase, but the paper is too fast for him. It lands on a delivery man's bike, and the cyclist stops by at the Mitsuba house. Mrs Mitsuba goes to recieve the delivery man, but thankfully doesn't see the paper. Unfortunately, Kemumaki is spying on them. As the biker leaves, Kenichi puffs after him. Kemumaki's telescope catches sight of the paper, and sends Kagechiyo to follow them. Kagechiyo slides down a common wire and dashes off after the biker.
Meanwhile, Kenichi opens up to Hattori about what's been happening, so Hattori sends Shinzo off to find the paper. Shinzo uses a special paper plane to catch the answer sheet. As it flies off, Shinzo uses his mind to manipulate the plane into where it's going - but he is distracted by the biker's call. Hattori punches Shinzo, who snaps back into action. Unfortunately, Kagechiyo catches the paper before Shinzo - but Hattori intervenes with his handy-hand grabber. Kemumaki fights back, but Hattori sends a message to Kemumaki by paper saying that he only got twenty marks for his ninja techniques. Furious and embarrassed, Kemumaki rips the paper into bits. Meanwhile Kenichi returns home - only to find out that a irate Mrs Mitsuba has discovered the marks.  As Kenichi freezes in horror, Hattori tells Shinzo that Mum really knows best.
Characters
Edit