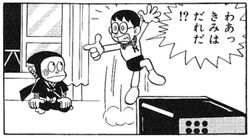 Ninja Hattori-kun (忍者ハットリくん) is a manga series created by Motoo Abiko. The first manga started in 1964, and ended in 1968, a long time before Ninja Hattori became a major anime. Three volumes were released in SUNDAY COMICS【秋田書店】. It ran from 1982 to 1988 in CoroCoro Comic, with 16 volumes released.
The manga was praised for its artwork and not-so dark comedy and unpredictability.
10-year-old Kenichi Mitsuba is an average kid who goes to elementary school and struggles with his studies, he is very stubborn and is very lazy and therefore always ends up frustrating his parents and teacher. Meanwhile a little ninja named Kanzo Hattori befriends Kenichi. Hattori is now a part of the Mitsuba family along with his brother Shinzo Hattori, and his ninja dog, Shishimaru. Hattori helps Kenichi with his problems, and constantly keeps an eye on him, as a good friend. Yumeko Kawai is portrayed as Kenichi's love interest. Kemumaki, a Koga Ninja and his ninja cat Kagechiyo always trouble Kenichi. Kenichi asks Hattori to take revenge. Although Hattori is a good friend Kenichi sometimes fights with Hattori due to misunderstandings created by Kemumaki. Sometimes Jippou, Togejirou and Tsubame help him.
External links
Edit
Ad blocker interference detected!
Wikia is a free-to-use site that makes money from advertising. We have a modified experience for viewers using ad blockers

Wikia is not accessible if you've made further modifications. Remove the custom ad blocker rule(s) and the page will load as expected.