Welcome to The Ninja Hattori Wiki!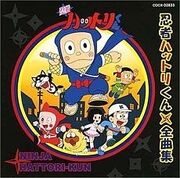 Ninja Hattori-kun (忍者ハットリくん?) is a manga series created by Motoo Abiko, later adapted into a television drama, an anime series, a video game, a live-action movie, along with a 2013 anime series currently on air.
Ninja Hattori Rules
1. No Spamming.
2. No inappropriate/bad words or pictures.
3. Respect each other in comments.
4. No pictures that are not related to Ninja Hattori Wiki.
5.No useless comments.
(Follow these rules or else you will be blocked.)
10-year-old Kenichi Mitsuba is an average kid who goes to elementary school and struggles with his studies, he is very stubborn and is very lazy and therefore always ends up frustrating his parents and teacher. Meanwhile a little ninja named Hattori Kanzo befriends Kenichi. Hattori is now a part of the Mitsuba family along with his brother Shinzo, and his ninja dog, Shishimaru. Hattori helps Kenichi with his problems, and constantly keeps an eye on him, as a good friend. Yumeko is portrayed as Kenichi's love interest. Kemumaki, a Koga Ninja and his ninja cat kagekiyo always trouble Kenichi. Kenichi asks Hattori to take revenge. Although Hattori is a good friend, Kenichi sometimes fights with Hattori due to misunderstandings created by Kemumaki. Sometimes Jippou, Togejirou and Tsubame helps him.
Links to all the Ninja Hattori characters...
Kenichi Mitsuba, Ninja Hattori, Yumeko Kawai, Kemuzou Kemumaki, Kagechiyo, Shishimaru, Shinzo Hattori, Tsubame, Kentaru Mitsuba, Amma, Aiko sensei.
This is a fandom and unpopular wiki. There are inapropriate categories, and a poor number of pages. It's time for all of us to work hard, and make this an appropriate and popular database.
                                            Write, share and collaborate about your favourite chibi Ninja Hattori!

News for Ninja Hattori
Edit
2012 Anime Version:
On February 14 2012, Nikkan Sports reported that TV Asahi's president Hiroshi Hayakawa in a news conference confirmed that a new anime series of Ninja Hattori-kun will be produced after 25 years. The new anime series is produced by Reliance MediaWorks, an animation company from India led by Anil Ambani and TV Asahi through its wholly owned subsidiary and animation production arm Shin-ei Animation. Both companies have agreed to make all new episodes of Ninja Hattori-kun. While Shin-ei's experienced team of writers and directors, in collaboration with the team of 100 animators at the Reliance MediaWorks' animation studio, have created the new Ninja Hattori episodes in 2D HD through a digitally mastered process, Reliance MediaWorks has also done the post-production and sound effects for the series.
The new episodes are currently on air on Nick India from May 14, 2012.