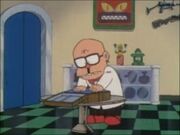 Professor Shinobino is a scientist who lives in the United States. He invented Togejirou and sent him to Japan to live with Hattori and his foster family in the episode Hattori's New Friend. He also had a guest appearance in Ninja Hattori-kun Plus Perman: Chounouryoku Wars.
Ad blocker interference detected!
Wikia is a free-to-use site that makes money from advertising. We have a modified experience for viewers using ad blockers

Wikia is not accessible if you've made further modifications. Remove the custom ad blocker rule(s) and the page will load as expected.