There are references/parodies to the Ninja Hattori-kun series in other manga and anime. Other characters have also made cameos in the Ninja Hattori-kun series as well.
Esper Mami
Edit
Hattori Jinchuu, Hattori's and Shinzo's father appears in an episode of Perman, where they fought with each other.
In episode 352 of Perman, Mrs Mitsuba, Tsubame and Hattori appear as part of the crowd watching a fireworks display. In the next scene, Koike Yamada and Aiko sensei are seen standing together, with Aiko sensei carrying their baby. Kenichi Mitsuba and Yumeko Kawai are also shown to be standing together in love.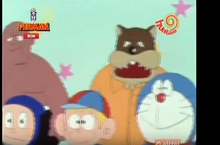 Mrs. Mitsuba appears in an episode of Doraemon, in one of Doraemon's dreams.
Koike Yamada appears as a cameo in Doraemon where he eats ramen.
In a Doraemon manga, Nobita is seen holding a Ninja Hattori manga. The cover of the manga resembles the second issue of the Tentomusi Comics Ninja Hattori series.
Obake no Q-tarō
Edit
Koike Yamada appears as a ramen chef in Obake no Q-tarō.
Biriken & Ultra B
Edit
Koike also appears in the cartoons "Biriken" and "Ultra B" as Michio's father.
The World God Only Knows
Edit
In real life
Edit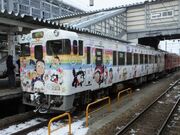 The Himi-Jōhana Line in Takaoka City, the birthplace of Fujiko Ⓐ (Abiko Motoo), operates "Ninja Hattori trains". In Himi Line wayside Kanzou Hattori's automated voice is used for announcements.