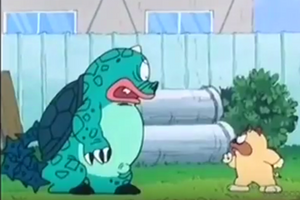 Shishimaru and Jippou have a scrap.
Shishimaru and Jippou are having an argument when Kagechiyo and Kemumaki rush into the waste ground. Kagechiyo intervenes and tells them to sort out their differences by battling it out. As Kagechiyo leaves them to it, a dream sequence pops up as they imagine duelling each other - resulting in Jippou winning. As a result, Shishimaru starts treating Jippou like a slave.
Back in real life, Jippou and Shishimaru start to fight. As Jippou imagines winning over Shishimaru, 
will be completed
Ad blocker interference detected!
Wikia is a free-to-use site that makes money from advertising. We have a modified experience for viewers using ad blockers

Wikia is not accessible if you've made further modifications. Remove the custom ad blocker rule(s) and the page will load as expected.